IT Entrepreneur (since 2018)

4+ years of entrepreneurial experience - co-founded and managed IT company - IKITLAB, LLC.
Conducting custom software development.
Providing outsourcing and outstaffing services.
Quickly building a team, establishing efficient DEV processes, defining MVP / experimenting with PoC, designing IT architecture and implementing it, scaling services and processes.
Teams / Project Leader (since 2005)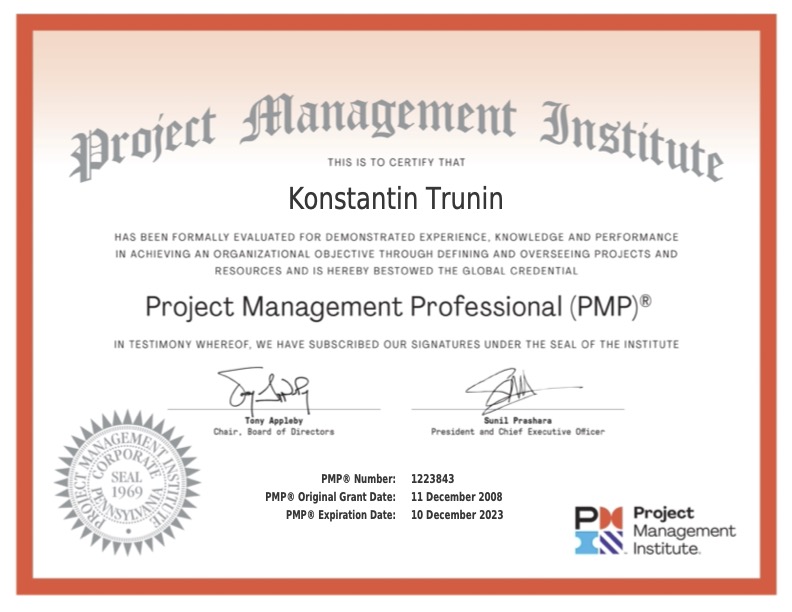 15+ years of project and service management experience.
Various trainings on leadership, team management and psychology.
Managed local and remote teams of up to 30 employees.
Prepared proposals and all contractual documentation; gathered requirements, designed solution architectures, created specifications, strategies, plans.
Good knowledge of project, program, and portfolio management according to PMI standards.
Exams/certifications:

Managing Projects with Microsoft Office Project
Project Management Professional (PMI PMP)® – since 2008
Disciplined Agile Senior Scrum Master (DASSM) – since 2021

Professional Memberships:

Project Management Institute (PMI)
PMI Moscow chapter

Public activities:
Software Engineer (since 1999)
20+ years of programming experience: designed, developed and maintained multi-tier/microservice desktop, web and mobile applications.
Various courses and books on IT technologies for continuing education.
Estimated software projects, created implementation designs, applied design patterns and clean architecture.
Worked with the technologies from ancient Win32 / COM / MFC / Delphi through .NET / Java to modern React/Vue & Golang & ML/Python & Solidity & docker/k8s.
Setup and maintained processes and IT tools for efficient software development: various source control systems, continuous integration systems, task & time trackers, quality management systems, NFT/automation tools, knowledge bases.
Microsoft Certified Professional:

Designing and Implementing Databases with MS SQL
Developing and Implementing Web Applications with .NET
Portfolio
Managed and supervised projects for large corporations:

Citibank
Raymond James
TD Ameritrade
Nuffield Health
Thomson Reuters

Managed and supervised projects for tech startups in various industries:

travel, transportation, logistics
e-commerce, marketplaces
content management, workflows, business automation
e-learning, coaching, consultations
health and fitness
finance, banks, fintech, blockchain
My contacts
Let's get connected in social networks:
Feel free to write me in case of any questions:
Or immediately schedule an online appointment with me in my calendar: